Brazilian Butt Lift: What You Need To Know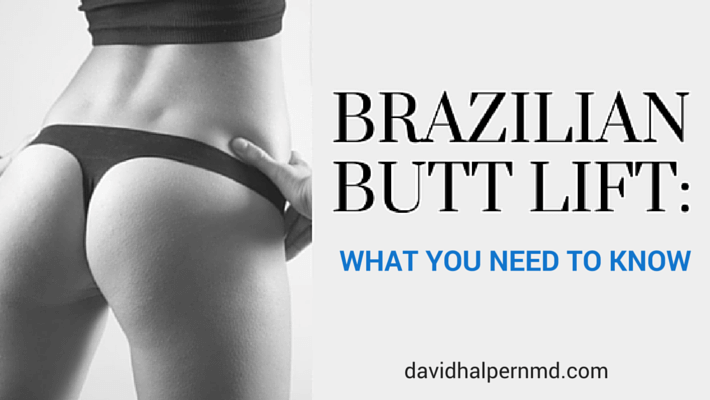 Breast augmentation, rhinoplasty, liposuction and facelifts continue to be a surgeon's bread-and-butter, but butt lifts have made a surprising surge in popularity in recent years.
Consider these butt lift statistics:
Last year, 4,767 butt lifts were done – up 36% from 2014 to 2015.
We also saw a 28% jump in butt augmentation with fat grafting (14,705 procedures done).
And there was a 36% increase in butt implants (2,540 procedures done).
Dr. David Halpern is one of the best plastic surgeons in Tampa, FL specializing in Brazilian butt lifts.
Brazilian Butt Lift: Why is it so popular and is it right for you?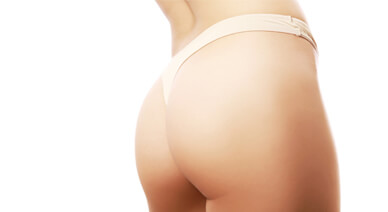 Types of Butt Lifts
Depending on your need, Dr. David Halpern may recommend one of the following types of butt lift:
Fat transfer buttocks: This procedure gently suctions your own body fat from the abdomen, hips, thighs or back and uses it to naturally shape, fill out and enhance your bottom.
Butt implants: Implants are another way to enhance volume. Products sold in the US are made of a soft solid silicone polymer, custom carved and sized by the surgeon to meet your needs.
Butt lift: The surgeon removes some skin and fat in the love handle area. The skin of the buttocks is then pulled up and tightened. A full lift improves contour and skin quality.
In many cases, surgeons combine augmentation and lift procedures for optimal results.
Why is a Brazilian Butt Lift So Popular?
The sudden upswing in popularity for rear-end enhancement even has plastic surgeons surprised. "It's just amazing, the numbers," said Dr. Douglas Taranow, a fellow board-certified plastic surgeon who is based out of New York. "It's with J. Lo, and Beyonce, and everyone else having a great derriere. … I think people see that and they want to mirror image it," he told NBC News.
"It's just amazing, the numbers. It's with J. Lo, and Beyonce, and everyone else having a great derriere. … I think people see that and they want to mirror image it."
Dr. David Halpern says many of his patients see it as a great add-on to a procedure like liposuction or tummy tuck. "Many people come in wanting fat removed from their hips, thighs and abdomens anyway and they figure 'Why not put it back where I need it and enhance my curves?' Over the years, the fat grafting technique has really given surgeons a natural way to re-sculpt the body."
Other popular reasons to get a Brazilian butt lift include:
To restore youth and combat age-related drooping.
To fit better in jeans, shorts and sweatpants.
To enhance the hourglass shape, especially when dressed in formalwear.
To improve self-confidence from always having "no butt" or "a flat butt."
To look better in a bikini (especially in Miami where all the bodies are hot-hot-hot!)
Are You a Good Butt Lift Candidate?
Poor candidates for Brazilian butt lifts include people who are not in good medical condition with heart, lung or neurological disorders. Patients who are taking herbal products that cause increased bleeding (like Gingko Biloba, Ginseng and Fish Oil) may also be advised against any kind of surgery.
Patients who are taking aspirin or non steroidal anti-inflammatory meds are good candidates but as with any elective surgery, Dr. David Halpern advises cessation of these types of medicines for 8-10 days to avoid excessive bleeding or bruising. Cosmetic procedures are also not recommended for people who cannot quit smoking for the pre-op and recovery periods, binge drinkers and the morbidly obese.
You are at increased risk for complications from surgery if you possess a serious health problem, such as:
Anemia
Arthritis
Diabetes
Depression
Hemophilia
High cholesterol
High blood pressure
Severe allergic reactions
If you plan to have children within the next year or two, it is recommended that you hold off on the butt lift procedure, as there is no predicting where and how the body will gain fat during pregnancy. If you are young and want to look a certain way right now, another option is to have it done and simply come back in for touch-up work following your childbearing years.   
Tips for Choosing a Butt Lift Surgeon
Every plastic surgeon has his or her own idea of what looks best on a patient. The best way to ensure you are on the same page with your doctor is to look at the before-and-after photos. Choose a surgeon who can deliver the look you find most attractive on a person. Brazilian butt lifts are very safe, provided that they are done by competent surgeons with fresh skill sets. Find a surgeon who strives to minimize scarring and who values patient satisfaction in every regard. Scheduling a one-on-one consultation is the best way to determine whether you will have a good rapport with a prospective surgeon or not. Go with your gut!
Questions to Ask Before Getting a Butt Lift
Are you board-certified? What is your certification for? Who certified you?
Look for someone certified by the American Board of Plastic Surgery, which is accredited by the Board of Medical Specialties and maintains the highest standards for Brazilian butt lifts. Be sure you're aware of the differences between a "plastic" surgeon and a "cosmetic" surgeon.
How many Brazilian butt lifts have you performed? Can I see before and after photos?
Ideally, your surgeon will be able to show you 10 or more patients with a diverse mix of different body types that demonstrate an understanding of human anatomy and the complexities involved in this kind of procedure. You can see two butt lift cases in Dr. David Halpern's online gallery, but he has more photos he can show you during a confidential consultation.
What techniques do you use?
Find a surgeon adept at liposuction, fat purification and injection. Each step of the process is equally important. You also want to know that all possible options for enhancing curves are available to you, so be sure your surgeon of choice has experience in dealing with implants as well.
How long will my surgery take?
Typically, a Brazilian butt lift will take anywhere from four to seven hours to complete, with 2-3 hours allocated for liposuction and fat processing, and 3-4 hours for injecting and sculpting. Anyone quoting you less than four hours may be taking shortcuts that compromise safety and outcome.
When can I expect to see results?
Realistic recovery usually involves wearing a compression garment and sit on a special cushion for two weeks. Most patients are back to work in two weeks and able to resume exercising in four weeks. The final result is typically observed after six weeks, when swelling and bruising go down.
What is your idea of the best results, given my body type?
Remember that "the best results" for a butt lift are not necessarily in achieving a particular size or perfectly emulating the dimensions of a famous celebrity. Getting the best butt for YOU means achieving a desirable waist-hips-butt ratio and taking the whole body shape into consideration.
What is the likelihood I'll need a revision? What is the cost?
For most butt augmentation procedures, about 70% of the fat transfer remains in place and 30% gets reabsorbed by the body. A skilled surgeon takes that into consideration when determining how much fat to remove and re-inject. The best surgeons do not have to perform a single re-do resulting from fat graft loss, but rather, perform a touch up here and there for the occasional patient who has gained significant weight or had children since the last surgery. That said, the surgeon should still have a clear policy pertaining to patient satisfaction.
Schedule a Brazilian Butt Lift Consultation Today
If you're considering a Brazilian Butt Lift, call (813) 871-5000 to schedule a consultation at Tampa Bay Plastic Surgery. Dr. Halpern will transform your backside into one that looks stunning year-round. You can view his Butt Lift Before and After Gallery here.