Get Breakthrough Carpal Tunnel Relief Offered By Dr. David Halpern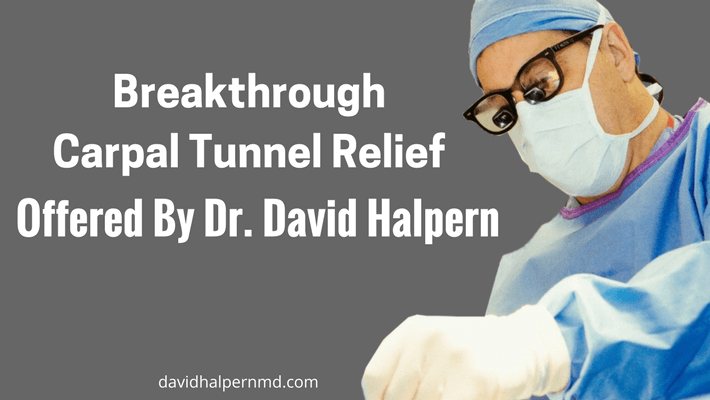 Dr. David Halpern is committed to helping people live more rewarding and productive lives with a quick procedure that alleviates carpal tunnel syndrome suffering.
What Is Carpal Tunnel Syndrome?
The "carpal tunnel" is a narrow canal in the wrist, formed by the carpal bones on the sides and a strong ligament on top. A rope of tendons and the median nerve passes through the space, connecting the forearm muscles to the hand bones. It's this structure that allows our thumb and fingers to bend and straighten. Carpal tunnel syndrome occurs when the tendons swell and put pressure on the nerve.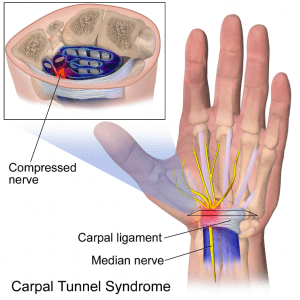 Symptoms Of Carpal Tunnel Syndrome
Carpal tunnel causes:
Pain
Numbness
Burning, and
Weakness in the hands and wrist.
Mild cases feel more like soreness, while more severe cases can feel like "burning" or "constant pins and needles."
Who Gets Carpal Tunnel Syndrome?
Women are 3x more likely to get carpal tunnel syndrome than men.
Carpal tunnel typically only affects adults, usually in their 40s and 50s.
People with diabetes and metabolic syndromes are at an increased risk.
It is especially common among assemblers, cleaners, seamstresses, meat-packers, and office workers.
It has been estimated that carpal tunnel syndrome affects 4-10 million Americans.   
Carpal Tunnel Treatments
Physicians usually tell individuals suffering from carpal tunnel syndrome to rest and avoid the repetitive motions that caused the overuse injury in the first place. Anti-inflammatories and direct application of ice may be used to take down swelling. Strength training exercises overseen by a physical therapist may be recommended. A doctor can inject corticosteroids into the wrist to provide immediate pain relief, but this does not address the root cause.
Carpal tunnel release surgery is one of the most common surgeries in the United States – recommended for anyone whose symptoms last more than six months with the help of Dr. David Halpern. 
Benefits of Endoscopic Carpal Tunnel Release 
The Stratos Endoscopic Carpal Tunnel Release System was introduced in 2013 as a minimally invasive approach to relieve carpal tunnel syndrome symptoms. Unlike the traditional "open release" surgery, which requires the use of many different tools, this system has micro tools attached to one device. Dr. David Halpern makes a tiny incision and inserts the disposable tool, which includes a tiny endoscopic camera, a scope-mounted blade, and a cannula attached to a revolver tab handle he uses intuitively to take the necessary actions. This advanced system allows the best possible visualization of the hand anatomy for more accuracy.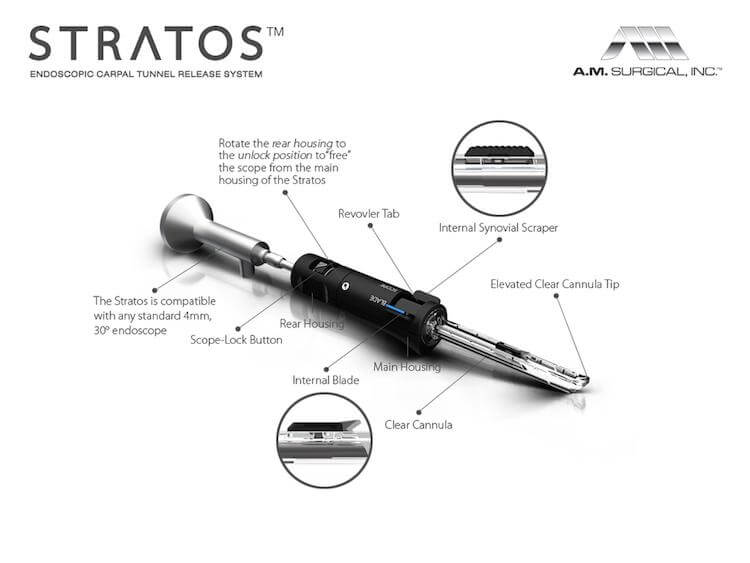 Additional benefits of Stratos Endoscopic Carpal Tunnel Release include:
High success rate – The Stratos system has a clinical success rate of 98%.
Minimally invasive –The smaller the incision, the less risk of infection and scarring.
No stitches – Wounds are closed using adhesive and a modest dressing, rather than stitches.
Instant pain relief – Surgical relief of carpal tunnel immediately resolves the root cause of trouble.
Low risk of injury – The risk of nerve damage is less than 1% for endoscopic carpal tunnel release.
Quick procedure – Can be done using local anesthetic, rather than general, in less than an hour.
Peace of mind – You can take comfort knowing the surgeon is using the latest technology.
Quick recovery – Patients are advised to avoid heavy lifting for 4-6 weeks, but most people are using their affected hand(s) the same day and return to work in 7-14 days.
Who Is Dr. David Halpern?
Your hands are one of the most important parts of your body. Naturally, you want the most qualified person working on your carpal tunnel. Dr. David Halpern is a highly regarded plastic surgeon who possesses three board certifications – in plastic surgery, general surgery, and micro hand surgery. He has been part of the elite "Hand Call Team" at Tampa General Hospital for over 15 years. In addition to his general and plastic surgery training, he completed his intensive, one-year Hand and Microsurgery Fellowship at the renowned Columbia-Presbyterian Hospital from 1995-1996. He has spent the past two decades working on complex hand and wrist reconstructions. You are in good hands with Dr. David Halpern!
Contact his office at (813) 871-5000 or fill out the form below to schedule a one-on-one consultation.