Discover Gummy Bear Implants for Breast Augmentation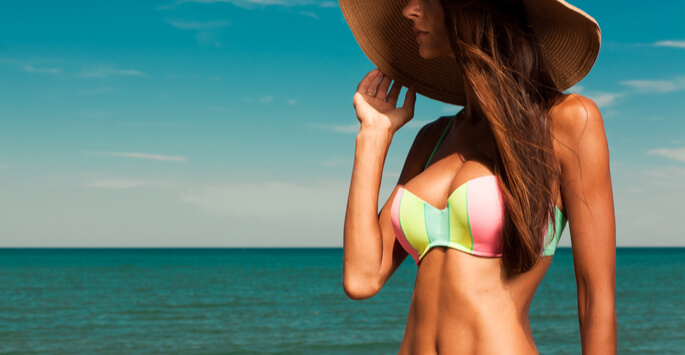 Breast augmentation is a popular cosmetic procedure. It can help a woman achieve their ideal body and boost their self-esteem. For many years, there were two choices available for implants – silicone and saline. Now, there is the natural-looking and feeling option known as Gummy Bear implants. This type of breast augmentation is approved for women who are not pregnant or breastfeeding. It is an ideal choice for women looking to add volume without changing the shape of the breasts dramatically.
What Are Gummy Bear Implants?
With breast augmentation using gummy bear implants, a silicone shell is filled with silicone gel. Unlike with more traditional silicone implants, the gummy bear implant is filled with a highly cohesive gel that can maintain its shape, even when cut in half. This is actually where they get their name! One of the reasons women love this type of implant is they feel quite natural and soft to the touch.
Unlike saline and silicone implants, which are perfectly round, gummy bear implants are teardrop shaped. Since implants have a tendency to shift and rotate after a while, the shell of the gummy bear is textured. This encourages your body's natural tissues to grow around and into the implant, holding it in place.
An added bonus of the textured shell is that it has been shown to reduce the chances of capsular contracture, a potential complication of implants. Capsular contracture occurs when the tissue around the implant gets too thick. This can cause considerable pain as well as breast asymmetry.
What Are the Benefits of Gummy Bear Breast Augmentation?
There are many reasons to consider this type of implants for breast augmentation over saline and silicone ones. Here are four of the main benefits:
They maintain their shape. Breast implants get pressure from the surrounding tissue. Gummy bear implants can stand up to this pressure better than the other options, preventing distortion of the shape of the breast.
They stay smooth. Due to the way they are made, these implants are less likely to either wrinkle or fold. This comes in particularly handy if you have limited breast tissue to put over the implant.  
They look more natural. The teardrop shape is much more natural in appearance than round implants. Even though they are not round, you can still get considerable cleavage with these implants.  
They don't move around. Silicone and saline implants are more affected by gravity. Over time, these implants have the potential to slide downward and begin to look saggy.  
Ready to learn more about gummy bear implants for breast augmentation at Tampa Bay Plastic Surgery? If so, the staff at our Med Spa would be more than happy to discuss the details further with you. Contact us today to schedule your consultation!