Young Professionals Seeking Earlobe Repair Surgery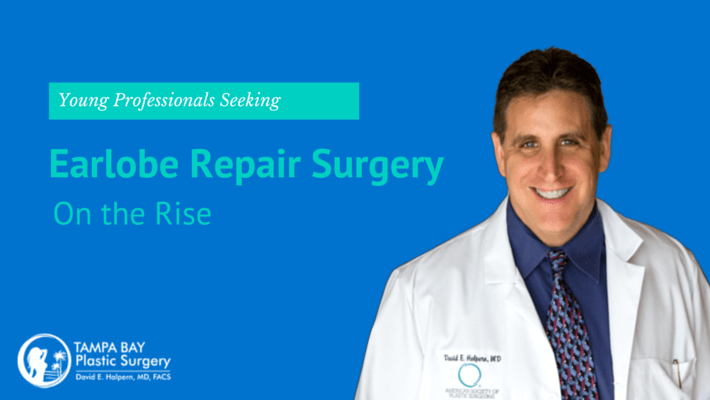 Call it what you will – ear gauging, tunneling, stretching, or an indiscretion of youth – but it is a dying trend. "Lots of my friends and rock bands had these big holes in their ears. I thought, 'That's interesting, something rebellious to do, I guess,'" one 19-year-old told the UK Guardian recently. Yet, he was finding as he prepares himself for a career that "a lot of places are not looking to hire someone with big holes in their ears."
Holes that are less than half an inch in diameter can shrink back on their own, but some people have ear lobe holes three times as big. The most extreme case is Hawaiian Kala Kaiwi, whose ears are almost 4 inches in diameter – large enough to fit a fist through!
According to NBC News 7, ear lobe repair surgery is not only the fastest growing cosmetic surgery in the UK, but a growing trend in America, too. 
[Tweet "Dr. David Halpern is offering earlobe repair surgery for $750 during March & April."]
Who seeks earlobe repair surgery?
For most patients Dr. David Halpern sees, it's about finding work in a sluggish economy. There are punk rockers who went back to school to become teachers. There are avid golfers who wish to join the Professional Golfers' Association and compete. The U.S. Army has a policy that earlobes greater than 1.66 millimeters in diameter won't be tolerated. Some people feel the original stretching wasn't done properly and led to an undesirable result. Other patients are teenagers who have finally grown tired of the hassle from their parents. Regardless of your reason, Dr. David Halpern is a triple-board-certified cosmetic surgeon who specializes in reconstructive surgeries.
What is earlobe surgery like?
Dr. David Halpern has found that no two cases are exactly alike and there is no standardized method to fix the unique shape of a person's ear, so it all boils down to the skill of the surgeon and an individual consultation to determine the best technique. At the initial consultation, medical history and aesthetic goals will be discussed.
Is earlobe repair safe and effective?
The safety profile of this surgery is excellent. Dr. David Halpern reviews risk factors with all patients to ensure they are a good fit for the surgery. All in all, the surgery yields pleasing results and recovery is pretty basic.
Earlobe Repair Special
The cost of ear lobe repair by a cosmetic surgeon typically starts at $1,000
. Dr. David Halpern is offering to repair both ears for $750 during March and April.
Need your earlobes fixed?
Dr. David Halpern's office is located at 120 South Fremont Avenue in Tampa, Florida. He will lend a sympathetic ear to your troubles. Book a no-obligation consultation by calling (813) 871-5000 or contacting us here.