Debating Dysport For A Less Furrowed Brow? Check Out This Deal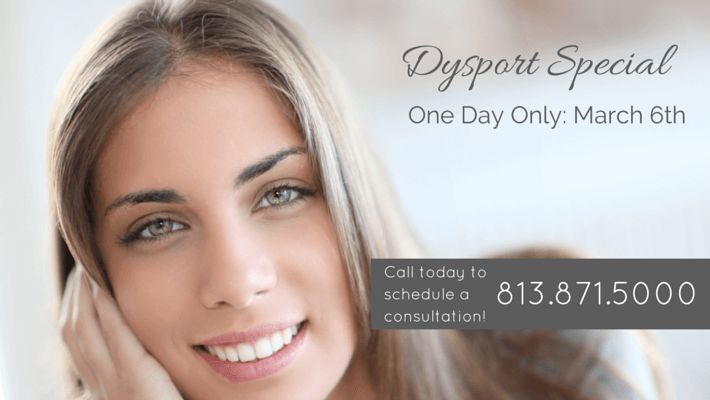 Board-certified plastic surgeon David E. Halpern, MD, FACS of Tampa Bay Plastic Surgery is offering special savings on Dysport, an FDA-approved wrinkle treatment, on the morning of Friday, March 6th only. If you've been curious about anti-aging treatment or putting off your appointment, now is the perfect opportunity to visit Dr. David Halpern for this safe and effective "lunch break" procedure.
Dysport Special: One Day Only
Book by March 6th before it's too late! Now is your chance to receive Dysport injections at a discounted rate AND administered by a renowned Tampa Bay Plastic Surgeon, Dr. David Halpern.
What is Dysport used for?
Dysport is a new form of botulinum toxin A that works similarly to relax the nerves that continuously tighten the facial muscles needlessly to cause wrinkling. Yet, Dysport is quickly becoming the wrinkle treatment of choice, as it takes effect quicker (2-5 days), lasts longer (up to four months), and costs less ($375) than the classic Botox injections we've heard so much about in the media.
Dysport works best for:
Frown lines
Wrinkles between the eyebrows
Forehead creases ("glabellar lines")
Eye wrinkles ("crow's feet")
How the Appointment Works:
Dr. David Halpern will meet with you in a clean, comfortable office setting to discuss the procedure and your medical history, as well as answer any questions you may have.
He will take photographs to show you which wrinkles will benefit most from Dysport treatment or discuss other options to help you get the natural, rejuvenated look you desire. These photographs will be used to compare with the results two weeks later at your follow-up appointment.
The injection site will be cleaned and numbed with a topical solution.
Dr. David Halpern alone will administer the Dysport injections. The injections are nearly painless due to Dr. David Halpern's skill and the topical agent used.
Are There Any Side Effects?
No serious side effects have been reported by Dr. David Halpern's patients, but the manufacturer lists the following possible reactions:
Dry eyes or eyelid swelling
Muscle twitching
Pain, bruising, or rash at the injection site
Headache
Muscle weakness
As a precaution, Dr. David Halpern will cover any health issues that would interfere with your candidacy for this treatment. Yet, these side effects tend to be fleeting in nature and do often resolve fairly quickly. Dysport may not be right for patients who: are over 65 years old, have been treated for muscle spasms, have a history of allergies, have had a lot of cosmetic work done on the face, or suffer from underlying medical conditions.
How Much Dysport Does A Patient Need?
The dosage depends upon the severity of the line and the muscle being treated, but the manufacturer-recommended dose is 50 units spread among five injection sites. More may be recommended if you are treating multiple areas.
Details About The Promotion:
Dr. David Halpern is offering up to 100 units of Dysport for just $350. The promotional rate is good only on appointments made for March 6th from 8 am to 12 pm. Your injection will be done by Dr. David Halpern, a highly trained, skilled, and board-certified plastic surgeon who has a long track record of smoothing wrinkles using Dysport, Restylane, Perlane, Sculptra, and Botox.
Why Choose Dr. David Halpern for Dysport?
Dr. David Halpern offers better value for your money. At Med Spas and some of the other practices, you may receive injections from nurse practitioners or physician assistants who can legally inject, but are not specially trained or experienced in cosmetic procedures. Going to a board-certified plastic surgeon for your injections ensures results, efficacy, and safety at a true bargain price. Dr. David Halpern does such a high volume of patients that he can afford to offer the best prices in the Tampa region to local and out-of-town customers.
Fill out the form below to contact Dr. David Halpern or call (813) 871-5000 for a consultation to see if you are a good candidate for Dysport at Tampa Bay Plastic Surgery.
Book this special Dysport offer now!