What is Sculptra?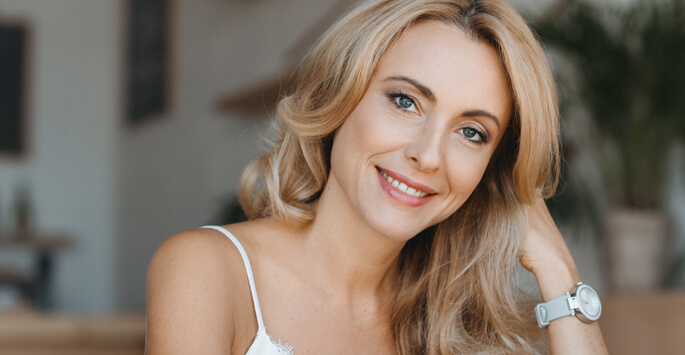 While people everywhere want to look good, that seems to be a little bit truer here in Tampa. As we age, the skin can begin to lose volume, causing facial sagging. This is one of the signs of aging that people tend to overlook. Sculptra is a great way to target both volume loss as well as fine lines and wrinkles, giving the face a completely rejuvenated look.
What Exactly is Sculptra?
The main ingredient in this injectable treatment is polylactic acid, a substance that has a long history of being safe in surgical products. This acid is known to stimulate the production of collagen, which plays a significant role in the health and appearance of the skin. Polylactic acid is commonly used in dissolvable stitches. It is absorbed by the body gradually over time. When strategically injected, Sculptra can plump up the skin, reversing facial sagging and filling in lines and wrinkles.
Once in your skin, Sculptra will actually trigger an inflammatory response. The body responds as if it were being attacked, which means it sends in the white blood cells. The white blood cells, in turn, will result in fibroblasts flooding the area and creating new collagen. It takes anywhere from four to six weeks for the collagen production to reach the level where it is noticeable.
What is Sculptra Effective at Treating?
This may be the correct treatment option for you if you are dealing with:
Hollow cheeks
Hollow chin area
Hollow temples
Nose to mouth lines
Mouth to chin lines
Undefined jawline
What Causes Facial Volume Loss?
There are several contributors to this issue. Age is a big one since the body stops creating as much collagen and elastin fibers as it gets older. Genetics can be a factor as well. Sometimes, volume loss in the face is an unexpected and unfortunate side effect of dramatic weight loss. There are also some medical reasons, such as a thyroid problem, that can make your face look sunken.
The History of Sculptra
Although it has grown in popularity in recent years, this injectable filler is not new. Sculptra has been helping people look and feel younger in Europe since 1999. Back in 2004, the FDA approved this treatment for use in the United States for the treatment of facial lipoatrophy. This condition, also known as facial wasting, is common in those with HIV. In 2009, Sculptra gained FDA approval for strictly cosmetic purposes. Currently, this treatment is used in Europe, Canada, and 20 other countries to help people regain a more youthful appearance.
What to Expect with Sculptra in Tampa
Before anything else can happen, a consultation will be had to determine if Sculptra is the treatment that is best suited for you. You can expect to answer questions about your medical history, current medications and supplements you are taking, and what your exact goals are for treatment. Using this information, we will be able to create a treatment plan that will help you get the look you desire.
When the day of your treatment arrives, you can expect to have the injection sites marked and the entire area thoroughly cleaned. Numbing can be done, if desired, to ensure your comfort. A series of small injections will be made underneath the skin. This is one thing that sets Sculptra apart from other dermal fillers, many of which involve injections into the skin. The area surrounding the injections will then be massaged gently to make sure that the product distributes evenly.
It will likely take more than one treatment to get you to your aesthetic goals. People commonly require three to six treatments, spread over the course of two to four months, in order to achieve optimal results. Appointments are spread out in order to give your body enough time to create collagen. Your needs may vary, depending on the amount of volume loss you are trying to reverse.
What Happens After Sculptra Treatments
You will be able to go about your normal life after your injections. If any redness or irritation occurs, it can be quickly handled using an ice pack. You will need to avoid direct sunlight until your skin has had a chance to recover. We may recommend that you massage your treated areas at certain times in the days following your treatment to get the best possible results.
You should see improvements immediately after you have your treatment, but the new volume will not last. It is simply caused by the water that is found in the Sculptra injections. After a few days, your improvements will fade. During this time, your body is hard at work creating the new collagen that will be the basis of your long-term results. It can take anywhere from four to six months to get the full impact of your treatment. Your patience will be rewarded, however, because the improvements from Sculptra have been known to last up to two years.
If you are happy with your results, you may want to consider yearly maintenance treatments. This will make them easier to keep up, rather than waiting until your last treatment has worn off completely. Keep in mind that everyone's body will react slightly differently. You may need maintenance treatments more or less often.
Who is a Good Candidate for Sculptra?
Due to the active ingredient in these injections, Sculptra is considered safe for almost everyone. There are certain things, such as skin infections and being on anti-inflammatory medications, that may prevent you from having this treatment. Those with allergies to lidocaine are not considered good candidates. The same is true for women who are pregnant or breastfeeding because the safety on Sculptra in these circumstances has not been thoroughly studied. If you have lupus, rheumatoid arthritis, or certain autoimmune diseases, this may not be the right choice for you. All of this will be covered at your consultation.
Like with most elective treatments, it is important to be in good general health before having Sculptra done. One of the points of your consultation is to ensure that you have a good understanding of what to expect and what results can be achieved. This is another qualification of a good candidate. Having a positive outlook is very helpful as well.
What are the Benefits of Sculptra?
There are many reasons people choose Sculptra over other options. Some of the highlights include:
Collagen levels are boosted: Collagen is vital for healthy, young-looking skin. Since collagen production naturally slows down with age, it is easy to see why a treatment like Sculptra can be so beneficial.
Skin looks healthier overall: More than just extra volume can be achieved by increasing collagen production. This essential building block will also make your skin more even and improve its texture.
Treatment is non-surgical: In today's busy world, very few people have the ability to miss weeks of work. This is a non-surgical treatment that is minimally-invasive and will not interrupt your life, making it the perfect choice for busy people.
Results are natural in appearance: Your results with Sculptra will develop in a gradual manner. As a result, it will not be obvious that you had any help achieving your youthful look.
Results are long-lasting: Your results with Sculptra can last for up to two years, a number which is quite impressive for a non-surgical treatment. Many competitors require follow-up injections anywhere from every three to every six months.
Boosts self-confidence: By reversing some of the signs of aging, you may start to feel better about your appearance. This can lead to boosted self-confidence, something that has been shown to reduce your odds of developing depression! Since depression can lead to more serious health problems, such as heart disease, why not do everything you can to fight it off and feel good about yourself?
Sculptra vs. Other Fillers
It is hard to know which filler is right for you. There are many things that set Sculptra apart from other options currently on the market. They include:
It is completely synthetic – meaning it is not made with human, animal or plant sources, reducing the risk of an allergic reaction
It is biodegradable, something else that makes it very safe
Injections are made and then spread in an area, rather than just treating small spots
Injections are placed underneath the skin rather than directly into it
It lasts up to two years, significantly longer than many other injectable treatments
Can Sculptra be Combined with Other Treatments?
Sculptra is commonly used in conjunction with other non-surgical treatments to take results to the next level. It is often part of what is known as a liquid facelift. Common treatments that can be used with Sculptra include hyaluronic acid-based fillers and laser skin resurfacing. Due to all of the options out there, your treatment can be highly customized. A consultation is your chance to tell us your precise goals so we can develop a treatment plan.
Learn More About Sculptra
To learn more about Sculptra, we warmly encourage you to reach out and make an appointment with Tampa Bay Plastic Surgery. At our convenient location, our caring and dedicated team of professionals will be pleased to explain this option to you in full and answer any questions you may have. Contact us today to set up your consultation – we look forward to speaking with you!