Banish Belly Fat With The Strawberry Laser Special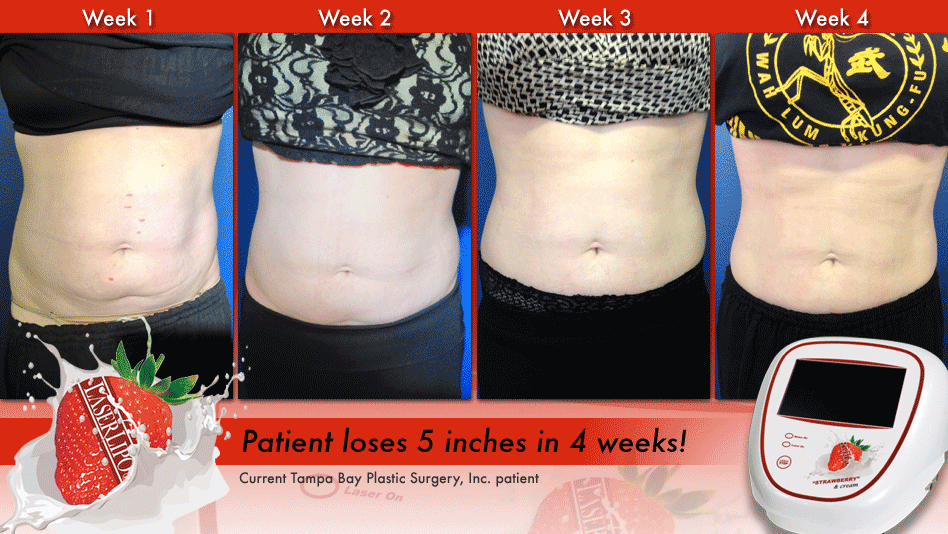 The weather is still beautiful, so it's easy to forget that the school season is already here. Yet, many teachers and college students are hoping to start the semester looking their best. Mothers with kids back in school are looking to spend their extra time getting in shape and losing that unwanted belly fat. Unfortunately, weight loss can be a long, depressing slog where results are painstakingly slow to show.
Even though you are eating and exercising to the best of your ability, there may still be fatty areas that persist. You may begin to ask yourself, "What's the point?" and think, "I will never look the way I want." The latest technology, as featured on The Doctors and The Rachael Ray Show, is the Strawberry Laser, which helps people lose inches without surgery.
Related: Prominent Tampa Plastic Surgeon to Appear on National TV Show "The Doctors"
Through the month of September, you can get 8 Strawberry Laser treatments from Dr. David Halpern for $2,000.
That's a $1,500 savings just for the month of September!
*8 Strawberry Sessions are regularly $3,500!
What is the LiLa Strawberry Laser?
According to Dr. David Halpern, "The Strawberry Laser is a non-invasive, FDA approved laser treatment that emits a painless laser to reduce fat cell size and melt excess fat tissue, which will be expelled by the body like other waste." Patients can get up to 10 treatments, and most will lose 1-3 inches per 20-minute session.
Benefits of Strawberry Laser Treatment Include:
Quick office procedure, with no downtime! Visit us on your lunch break!
No bruising, no scarring, no damage to surrounding tissues!
No pain: imagine a relaxing visit to the Med Spa. It's that noninvasive!
Targets specific areas that are particularly stubborn, like "muffin tops."
The treatments are FDA approved for safety.
Can treat a wider surface area than other types of treatment.
Related: Dr. David Halpern Appears on The Rachael Ray Show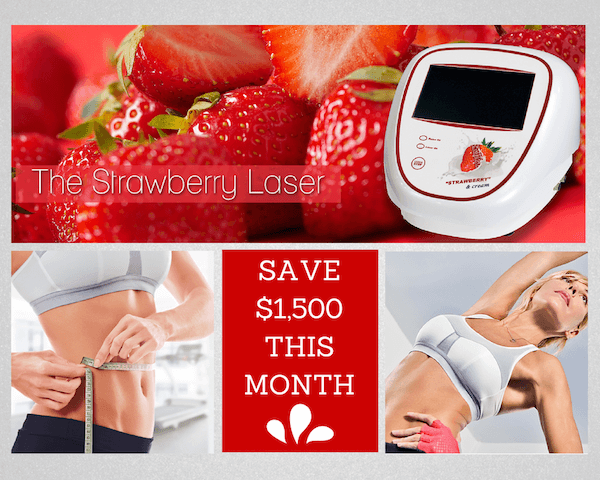 Who Can Get Strawberry Laser Fat Removal?
Strawberry Laser fat removal is not a "magic bullet" for the overweight or obese. The ideal candidate for the treatment is someone who is generally considered "physically fit," and within the ideal BMI for their height, but who struggles with trouble spots – like the classic "mummy tummy" or cellulite thighs. Most Strawberry Laser patients are like Susan Berger, who told WFAA News, "I lost eight pounds and nothing changed. It's where I carry it."
Is the Strawberry Laser Considered 'Laser Lipo'?
No. The Strawberry Laser is often referred to as 'Strawberry Laser Lipo' although it is not actually liposuction. The Strawberry Laser is an FDA approved, gentle treatment that provides similar results as liposuction but without the intrusiveness of surgery. Different from traditional liposuction and laser lipo, the Strawberry Laser Treatment is completed in a series of 20 minute sessions and provides real, measurable results. It is by far the best liposuction alternative on the market today and provides patients with real results without the side effects of traditional liposuction.
Where Can People Get Strawberry Laser Treatments In Tampa Bay, FL?
Dr. David Halpern, a triple board-certified plastic surgeon, is the only professional to offer this innovative new treatment. He has been practicing plastic surgery for 15 years and is currently the Chief of Plastic Surgery at Tampa General Hospital. His clinic, Tampa Bay Plastic Surgery, is located at 120 Fremont Avenue in Tampa.
Contact us for a confidential consultation to discuss your body contouring needs and learn more about the Strawberry Laser here.