Learn More About Cosmetic Surgery Industry "Hot Topics"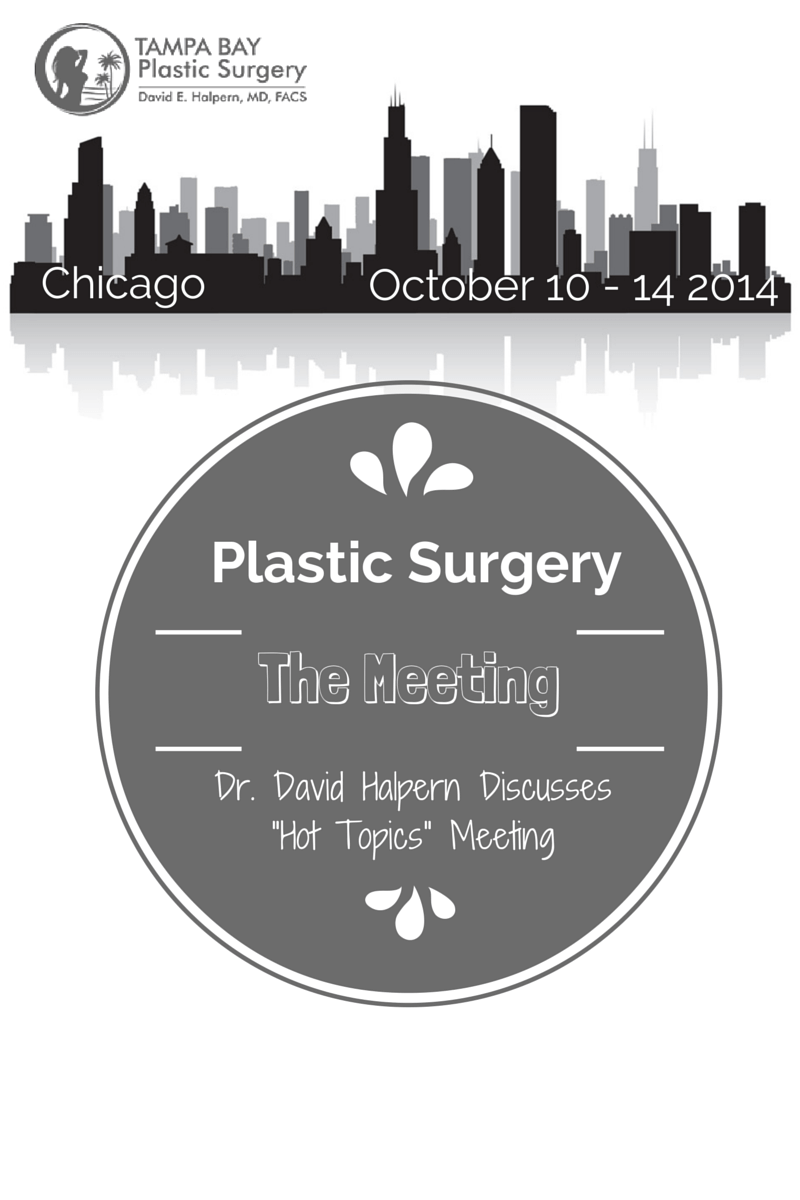 Last weekend, Dr. David Halpern attended the annual American Society of Plastic Surgeons Meeting in Chicago. "The 'hot topics' lecture was a five-hour extravaganza of the newest advances in cosmetic surgery. Seven areas were discussed by more than 20 speakers," he said. "Not everything discussed has been proven with in-depth research yet, but it was really insightful to see what will be available on the market in the near future." Five different lecturers from all around the world presented on seven major areas of cosmetic surgery, which Dr. David Halpern will discuss in this week's blog.
15 Takeaways From The ASPS "Hot Topics In Cosmetic Surgery" Meeting:
Facelift Techniques: Dr. David Halpern has been using fat grafting with facelifts for 15 years. After hearing about newer techniques of micro-graft harvest, micro-cannula delivery (rather than using needles), and washing that lead to superior graft take, he realized more than ever that he's truly been working on the cutting edge of science in his practice.
Implants: Lecturers talked about the use of Indocyanine Green fluorescent imaging to assist with intraoperative assessment of flap blood supply during mastectomy. Additionally, there are many uses in colorectal surgery, endoscopic surgery, and pediatric care. "I hope to bring SPY imaging to Tampa General Hospital in the near future," says Dr. David Halpern. "I've already coordinated letters to the TGH administration to request the acquisition of the new system."
Pain Management: Dr. David Halpern's patients have access to a local anesthetic called "Exparel," which allows them to leave his care same-day and have less reliance on narcotic pain medication. "There are fewer symptoms of nausea, vomiting, constipation, or addiction," explains Dr. David Halpern. "Many practices are just starting to adopt the use of Exparel, but we've seen great results in reducing postoperative pain at Tampa General Hospital for a while now."
Injectables: Bellafill is a promising new product coming to market to treat acne scarring. Xiaflex is a cloned collagenase used to break up contracture-causing bands in the hands of people suffering from Dupuytrens disease. "I have been working with this injectable for three years," says Dr. David Halpern, "and I have had 100% success for improvement of motion without surgery in my Dupuytrens patients." The Tampa Bay cosmetic surgeon's findings were corroborated at this prestigious meeting of the minds.
Lasers: Presenters showed off many different lasers, as this is an extremely rapidly evolving technology. Highlights included: the hybrid fractional, fractional RF, and non-invasive skin tightening lasers. "In my opinion, this is very expensive machinery for something that becomes outdated in two years," Dr. David Halpern comments. "It's sort of like trying to keep up with the latest smartphone."
Energy-Based Technologies: Of greater interest to him were the new advances in hair transplantation with the high-tech "Neograft" and "Artas" robots. "This is a HUGE advance in care with amazing results. Not only is it a much quicker procedure, but there is no worry about scars from the harvest of grafts."
Non-Invasive Body Sculpting: One of the hottest of the "hot topics" at the meeting was the heavily-marketed body sculpting systems like CoolSculpt, Zeltiq, and Vanquish. These systems use unipolar or multi-polar radiofrequencies in direct or non-direct contact to break up unwanted fat deposits and slim down the physique. "I still like the simplicity and cost advantages of Strawberry Laser, which I use extensively in my practice," says Dr. David Halpern. He added that the Strawberry Laser was also featured at this year's meeting and created quite a favorable buzz among participants.
Smart Technology: Presenters covered the use of Google Glass in the operating room, smart phone technology, HIPAA compliance, reimbursement issues in telemedicine, data breech protection services, narcotics prescription legislation (bringing an end to written scripts in New York), and government control topics. Presenters also demonstrated new electronic patient education tools to assist in learning and understanding.
Stem Cells: Stem cells are another "red hot" topic, says Dr. David Halpern, but also one that should be approached with extreme caution. "Many providers say they are using or transplanting stem cells, but they are misleading the public," he says. Fat grafts have "stem cell activity," but there is no commercially-available stem cell transfers to date. Dr. Rubin from the University of Pittsburgh has special labs where he is harvesting and concentrating stem cells from lipoaspirate, which can then be injected to improve fat graft take. "This seems to be the future of stem cells, but we are JUST starting to see their clinical use," Dr. David Halpern adds. Dr. Maria Siemonow of the Cleveland Clinic has presented in scientific meetings about using stem cells in nerve repair and continued to present new research in this area.
Fat Grafts: The use of P-188 (a currently unnamed cell wash) was discussed as a way to improve fat graft survival. Microneedling to improve the appearance of skin wrinkles and acne scars remains popular. "Many devices were presented and there is still much to learn," Dr. David Halpern notes. "We're starting to see some good research into the size of needle, and the depth of punctures needed. Although the 'Vampire Facelift' looks promising, we still needs better science before its widespread use, in my opinion," he adds.
Research: A National Breast Registry has been newly created in the United States to study the experience of breast augmentation patients in the long-term. Presenters discussed how it has been done in Australia.
Wound Healing: There has been much improvement in treating scars with non-ablative laser.
Anticoagulant Drugs: Deep vein thrombosis and pulmonary embolism are serious risks associated with any type of surgery. A novel class of anticoagulants has been promoted by drug manufacturers as an easy-to-take alternative to Coumadin, which does not require frequent blood monitoring tests. However, Xarelto and Eliquis have significant bleeding risks, as demonstrated in a presented study of 1,300 patients.
Cell Therapy: The use of cell therapy for perioral aging (around the mouth region) was discussed. This can be a tough area to treat, so any new advances are generally welcomed by plastic surgeons.
Suture Techniques: "The use of shuttle needles is a vast improvement over barbed suture and HA strand methods," said Dr. David Halpern. "This old concept has been revisited with a new needle. Basically, this needle can thread modern sutures through tunnels, instead of costly anchoring devices. Shuttle needles aid cosmetic surgeons in facelifts, minimally invasive facial surgery, and brow lifts, to name a few procedures."
Dr. David Halpern: A Tampa Bay Cosmetic Surgeon On The Cutting Edge
While the topics were "all very exciting," many of the techniques, technologies, and devices discussed were nothing new to Dr. David Halpern. "I like attending the annual meeting, in part, to see all the latest breakthroughs and consider how they may apply to my practice – but also to validate the decisions I've made thus so far," he says.
Remember, all cosmetic surgeons are not created equal. It's important to choose someone who is not just "board-certified" because that doesn't necessarily mean certified by a plastic surgery board. A dentist and an orthopedic surgeon can both be "board-certified" – but you don't want them operating on your face.
Dr. David Halpern is triple board certified in plastic surgery, general surgery, and micro hand surgery. He is a member in good standing with the American Society of Plastic Surgeons and regularly attends these important events as a way of furthering his education.
Schedule a consultation
Contact Dr. David Halpern here if you are interested in enhancing your looks through cosmetic surgery or non-invasive measures.