Why Board Certification Matters: How To Find a Safe Plastic Surgeon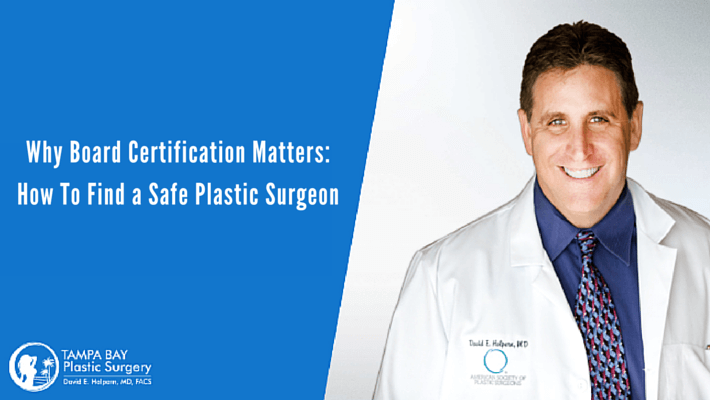 Plastic surgery numbers continue to grow, year after year. Consumers are confident that the benefits outweigh the risks and that the combination of technology and technique offers them a safe way to reach their aesthetic goals. However, all surgeons are NOT equal. As you shop around for your next plastic surgeon, look for board certification by the American Society of Plastic Surgeons.
Why Board Certification Matters
Even the best surgeons can sometimes run up against unforeseen complications or emergency situations. The difference in choosing a certified surgeon is that you can be sure they have the knowledge and experience. They are able to make life-saving, damage-mitigating decisions when every second counts.
Dr. David H. Song, president of the American Society of Plastic Surgeons (ASPS), explains that all their certified surgeons receive specialized training in how to effectively deal with known potential problems such as fat embolisms.
Furthermore, ASPS-certified plastic surgeons must have at least six years of professional medical training and pass two rigorous exams.
It takes a good seven to eight years to become board-certified in Plastic Surgery, he toldHealthline.
Beware Scam Artist Surgeons
When seeking a plastic surgeon, don't just take their word for it, Dr. Song adds. He sees several acts of deception routinely taking place:
Doctors claim to be "board certified," but simply lie and don't actually possess the credentials.
Doctors don't say which board did the certifying. (The American Board of Medical Specialties does not accredit all boards like ASPS!) Some boards give out "certification" for a small fee.
Doctors don't say what they're board certified in. "There are a lot of pseudo boards, someone can be board certified in internal medicine and still call himself or herself a cosmetic surgeon and still say that they're a board certified cosmetic surgeon," Dr. Song clarifies.
Look For Accredited Facilities
To cut overhead costs, some surgeons elect to perform cosmetic procedures in non-licensed facilities. Surgeons who are willing to cut corners with so-called "office surgeries" may have issues with local accredited surgery centers or banned from doing surgery at local hospitals, so it could be a red flag.
Accredited surgical facilities guarantee:
They report all complications or infections to the medical board and health department.
Emergency protocols for fires, disastrous weather and emergencies are in place.
The physician's license is not revoked or suspended.
They meet industry's best patient care standards for equipment, staffing and food.
List your patient rights and responsibilities somewhere visible.
Drug and medication expiration dates and supplies are not lapsed.
Your surgeon's peers monitor and review him or her continuously for quality assurance purposes.
Anesthesia standards have been set and are only performed by licensed anesthesiologists.
There are exceptionally low rates for serious complications and mortality.
Note that ALL American Society of Plastic Surgery member surgeons MUST use fully accredited, state-licensed facilities for all procedures.
Choosing Uncertified Surgeons Leads To Countless Horror Stories
You need not look far to find stories of unqualified surgeons completely botching the complex task of plastic surgery. Here are a few headlines that caught our attention:
Australian Man Dies Days After Traveling To Malaysia For Cheaper Plastic Surgery
Thirty-one-year-old Leigh Aiple arranged multiple procedures — a tummy tuck, liposuction, an upper eye lift, chin tuck, lip filler, thigh lift, and chest sculpting – through Gorgeous Getaways, a New Zealand based medical travel agency, before flying to Kuala Lumpur to have the surgeries done by an uncertified surgeon at Beverly Wilshire Medical Centre. He complained of complications, but his surgeon gave him clearance to fly back home. He later died of pulmonary thromboembolism upon his return home. His mother told local reporters, "When he came home, there were gaping holes, there was stitching everywhere."
Death Raises Concerns About the Risks of Plastic Surgery
Heather Meadows, a 29-year-old West Virginia woman and mother of two, had a Brazilian butt lift procedure at a South Florida clinic. She died from a fat embolism and heart defect complication following the procedure. According to NBC News, "The state board that regulates doctors has accused him of botching plastic surgeries while working at other clinics, and has restricted what procedures he can perform. Dr. Omulepu is fighting efforts to have his license revoked. The clinic's website states they have "board certified surgeons with experience." But newspaper reporters could not find any of the doctors on the Board-Certified Plastic Surgeon Finder.
Mother of Girl Brain-Damaged By Plastic Surgery Warns About Clinics
Linda Perez had breast augmentation surgery three years ago. She spent three months in a coma from complications due to her surgery. Now, she can only speak a few words and stand for a few moments. The doctor who administered her anesthesia had an active license. But had spent 30 months in prison after "peddling drugs" online. He was a defendant in a medical malpractice suit following buttock augmentation.
Beauty blogger is left 'looking like a burns victim' after laser surgery to remove a small birthmark on her cheek goes wrong
It's not just invasive surgeries that are capturing headlines. Molly Martinson, a 23-year-old beauty blogger, wanted to have a small birthmark on her cheek removed. She thought it would be a quick laser procedure. After the procedure she wound up with severe burns that have produced visible scars years later. "I was shaking and terrified," she said after her third procedure. "It looked like someone took a hot coal to my face and burned me." She later found out that same surgeon burned someone while doing laser hair removal. "People need to do extensive research on who they are choosing to go to," she concluded.
People need to do extensive research on who they are choosing to go to. I didn't do that and I wish I would have after finding out the same surgeon burned someone who got laser hair removal. I would also tell them to be up front with the surgeon or medical professional and let them know they are aware of the extreme dangers.
How Does This Happen?
As the Miami Herald points out, state budgets are often slashed so much that consumers are essentially left to fend for themselves. About 1,500 positions (particularly county health agency jobs) were cut under Governor Rick Scott's latest budget. At the same time, the Florida Department of Health saw its budget reduced by $57 million.
The best you can do is:
Get all available information you can from the Florida Department of Health's Medical Quality Assurance search service. Look up disciplinary actions for any surgeon you're considering.
Verify a surgeon's credentials with the American Society of Plastic Surgeons florida.
Never go in for surgery without a separate patient consultation.
Never go in for surgery without signing an informed consent agreement detailing the procedure.
What Legitimate Board Certified Plastic Surgeons Do
Once you're sure you've found a legitimate plastic surgeon with board certification from the American Society of Florida Plastic Surgeons who performs at an accredited facility, there are several things you should look for in your patient consultation, say experts. During the initial meeting, your surgeon should ask for your full medical history, including:
Family history
History of illness and hospitalizations
Activity level
Mental health history
Lifestyle habits like smoking, drinking and drug use
List of current medications
Past history of drug interactions or reactions to anesthesia
Past history of surgery and medical emergencies
Respiratory ailments or problems
Possible caregivers and home environment details
A full physical examination should take place before your scheduled procedure. Legitimate surgeons turn away about 3 out of 10 candidates due to potential complications. This may scare some patients away from wanting to be fully candid with their surgeons. However, it's much better to consider the possibility of living with a few imperfections than it is to die on the operating table or go through life permanently maimed from a preventable complication.
Dr. David Halpern is an ASPS board certified plastic surgeon in the Tampa Bay area. He is triple-board certified and performs all major surgeries in a certified facility for patient safety. You may contact him here.