Treat Yourself With Holiday Season Specials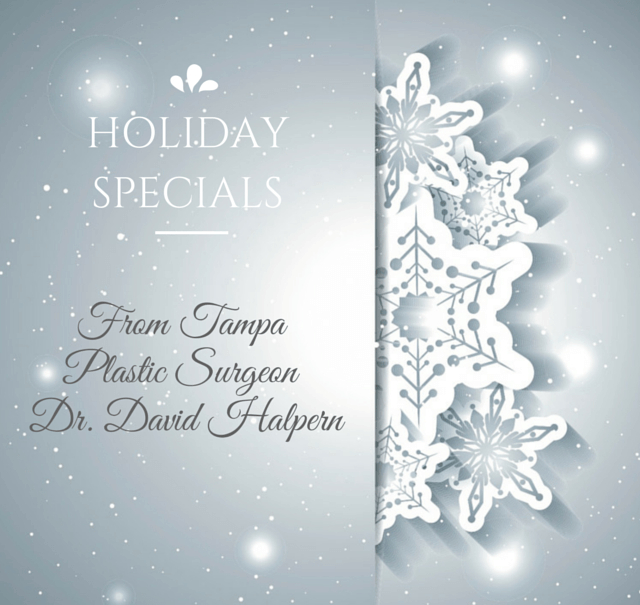 Look your best and feel your best this holiday season! Cosmetic surgery procedures may not immediately come to mind when one thinks of the Holiday Season, but Dr. David Halpern's office is a flurry of activity this time of year. There are several reasons why people treat themselves to plastic surgery in December and January. Many people are off work and have the time to recuperate from some of the bigger procedures, while others may want to sneak in a quick dermal filler appointment to look refreshed for their holiday parties. Despite the high demand for his most popular procedures, Dr. David Halpern is getting into the generous holiday spirit by offering a few specials though the end of December.
Save $1,500 on Strawberry Laser!
Strawberry Laser Treatment painlessly shrinks fat cells in troublesome spots like muffin tops, potbellies, and thighs with no downtime. There is no bruising, scarring, or damage to surrounding tissues for the FDA-approved procedure, so many people stop in on their lunch breaks. Results may vary, but most patients lose 1-3 inches per 20-minute session. Through the month of December, you can get eight Strawberry Laser treatments from Dr. David Halpern for $2,000 – a savings of $1,500!
Related: Banish Belly Fat This Fall With This Strawberry Laser Special
Get a $25 rebate on Dysport Treatment!
Dysport is a prescription injection for the temporary improvement of moderate to severe frown lines between the eyebrows in adults under 65 years of age. Sometimes cosmetic surgeons also use Dysport to reduce the appearance of crow's feet and forehead creases as well. The effects can be seen within 2-5 days and last for up to four months, without altering one's features or expressions. Dysport makes the perfect holiday gift to a loved one — or even yourself! At $375, the injection is about half the cost of Botox. Plus, through the end of the month, you will receive a $25 mail-in rebate from the manufacturer for even greater savings.
Dr. David Halpern is the Tampa Bay Holiday Plastic Surgeon of Choice
Dr. David Halpern is a triple-board certified plastic surgeon who has been practicing plastic surgery for 15 years. He is currently the Chief of Plastic Surgery at Tampa General Hospital. He has performed hundreds of Dysport injections and Strawberry Laser procedures at his Tampa Bay Plastic Surgery clinic, located at 120 Fremont Avenue in Tampa. As a consulted expert, he has appeared on The Doctors and The Rachael Ray Show. Call (813) 871-5000 for more information on these holiday specials.