10 Benefits of a Breast Augmentation
Dr. David Halpern shares the 10 Benefits to getting a Breast Augmentation 
Breast augmentation is one of the most popular plastic surgery procedures performed worldwide. According to the American Society of Plastic Surgeons, there were over 300,000 breast augmentations performed in 2017 in the United States alone.
While it's clear that cosmetic breast surgery is a popular choice for women, every patient is drawn to this procedure for different reasons.
Below, we'll be exploring the top 10 benefits that breast augmentation provides to women who undergo this transformative surgery.
1. Increases Breast Size
The desire to increase breast size is one of the most common reasons why women seek breast augmentation. But contrary to common belief, the desire for larger breasts isn't simply to please others or to look more attractive to men. Breasts play an important role in a women's sense of femininity, and some women feel that having larger breasts can better express that aspect of their identity. Whatever the case may be, breast augmentation is an effective, long-lasting way to achieve larger breasts for women who feel that theirs are too small.
2. Gives you More Clothing and Swimsuit Options
Imagine being able to perfectly fill out every blouse you try on, without having to get it altered or resorting to a padded bra. With ideally sized breasts, even going shopping for a new bikini is no longer a tortuous experience. Whether you want to look more womanly in a swimsuit or you'd like to wear clothing styles you've always loved, breast augmentation can help you look great in all styles of clothing.
3. Updates Your Look at Any Age
The media's portrayal of the typical breast augmentation patient is usually a younger woman in her 20s, but the truth is, cosmetic breast surgery is sought by women of nearly all ages. Women in their 30s, 40s, 50s and beyond can all enjoy the benefits of this transformative procedure. As you age, what better way to update your look than with breast augmentation?
Just because you're no longer in your 20s it doesn't mean that you don't care about feeling attractive or sexy anymore. There are many benefits of choosing breast augmentation after the age of 50, such as attaining a more youthful look and restoring what aging has changed. It also allows your external appearance to match the vitality that you feel inside, no matter your age. Many women over the age of 50 choose to pair their breast augmentation with a breast lift for a fully rejuvenated look.
4. Creates a More Balanced Figure
As mentioned in our blog post regarding common myths about breast surgery, most women seeking breast augmentation aren't going for the supersized look. For the average patient, it's all about balance. When breasts appear too small for a woman's frame, her entire shape can look unbalanced, and many women want to improve their proportions.
Overall, breast augmentation can improve the aesthetic harmony of your body, giving you that perfect hourglass shape. When the hips and breasts are proportionate with the rest of your body, this also has the added benefit of making your waist look smaller.
5. Improves Breast Shape
Breast augmentation isn't just about size; breast implants also come in a variety of shapes, including round and contoured. Round, high-profile implants are great for achieving a bold look with ample cleavage. If you're seeking a more natural appearance, contoured breast implants are available in a "teardrop" shape. These types of implants are designed to closely match the curves of natural breasts.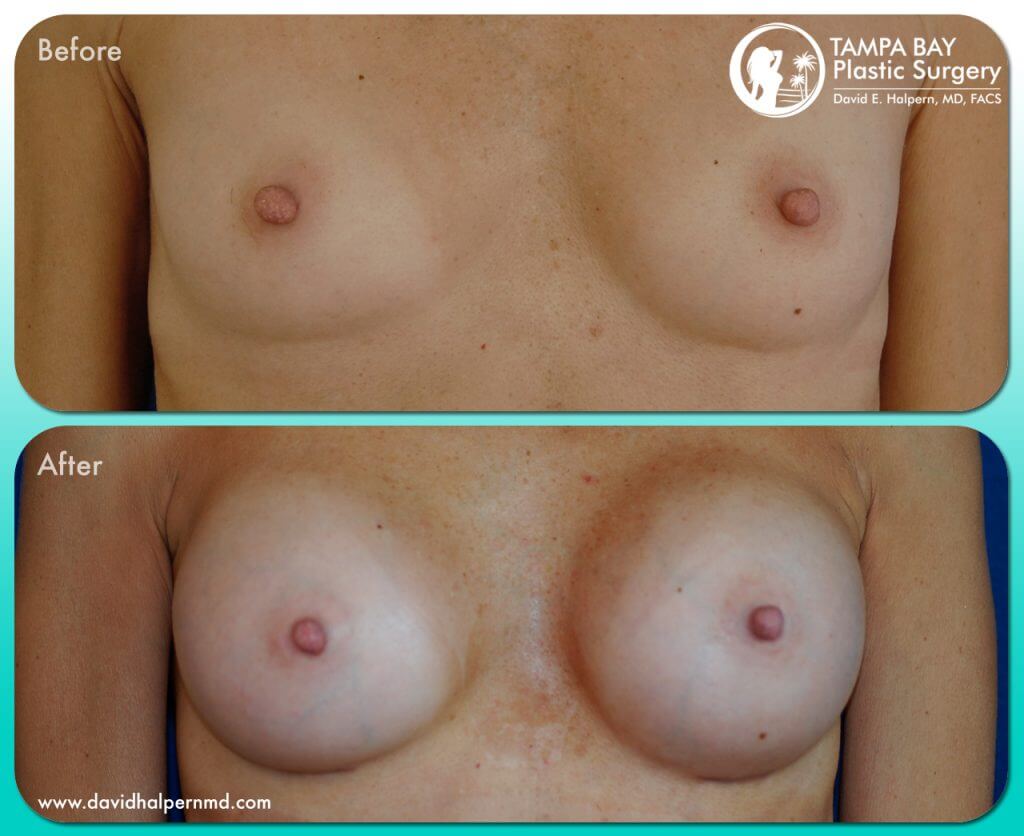 A before and after look at one of our breast augmentation patients at Tampa Bay Plastic Surgery.
6. Reverses Changes After Pregnancy
While children can be a true gift in life, pregnancy can leave permanent physical changes on the body. The breasts suffer the brunt of these changes, especially after breastfeeding. While the breasts often look full during pregnancy, many women feel that their breasts have taken on a "deflated" appearance after breastfeeding. Fortunately, breast augmentation can beautifully restore volume that has been lost due to pregnancy and breastfeeding.
7. Corrects Asymmetry
Breast asymmetry is completely normal and quite common, but it can make it difficult to find properly fitting bras, swim suits, and clothing in general. Also, many women feel uncomfortable with the appearance of their asymmetrical breasts. Whether you have significant asymmetry or you're seeking a more subtle enhancement, breast augmentation can be completely customized to your needs and preferences.
8. Boosts Confidence
Breast augmentation can have a powerful effect on your self-esteem and outlook on life. Many patients wish they had undergone breast surgery sooner. From improving sexual satisfaction to simply making women feel more comfortable with their sense of femininity, breast augmentation can have a dramatic improvement on overall confidence.
9. Gives You Motivation to Stay in Shape
When you feel more comfortable with your appearance, you can't help but want to show off your figure. The newfound confidence from a recent breast augmentation can produce widespread changes in your life. Many women find that their breast implants give them more motivation to keep in shape and maintain healthy lifestyle choices.
After all, it's hard to feel comfortable exercising in form-fitting workout clothes when you're unhappy with your body to begin with. That's why breast augmentation can have such a powerful impact on women's lives. Breast surgery can empower you to do the things you may have avoided in the past, like achieve your fitness goals and get the body you deserve.
10. If You Change Your Mind, Implants Can Be Removed or Replaced
It's natural for a woman's cosmetic tastes to evolve over time. The aesthetic you desired in your 20s might be much different from what you currently like. And if your initial breast augmentation was 10 or 20 years ago, there's a chance that your breasts don't match your current tastes. Fortunately, breast implants can be replaced. Some women choose to have a new set of breast implants placed after many years. And if you decide that you no longer want breast implants at all, they can also be removed.
Schedule Your Consultation With Dr. David Halpern Today
As a board-certified plastic surgeon, Dr. David Halpern of Tampa Bay Plastic Surgery has helped countless women discover their best look through breast augmentation and cosmetic breast surgery. Whether you're seeking boosted body confidence or you'd like to correct changes after pregnancy, he would be happy to discuss your surgical options. Contact him today at (813) 871-5000 to schedule your personal consultation for breast augmentation in Tampa.