11 Breast Augmentation Facts & Myths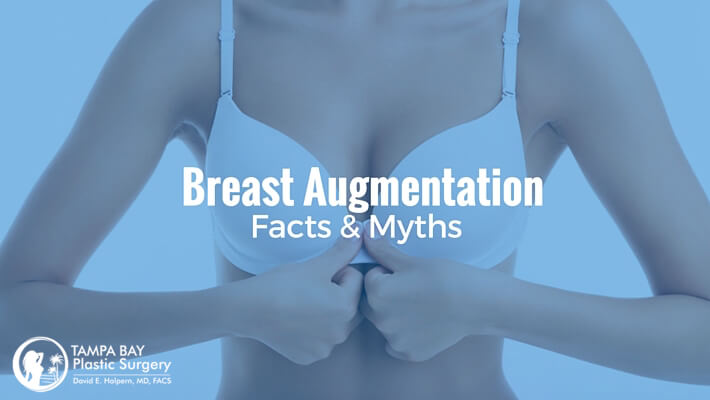 Though the number of breast augmentations dropped 1 percent last year, it was still the #1 plastic surgery procedure in the United States with 286,254 successful operations performed. Today's implants come in saline or silicone gel, with the new "gummy bear" silicone implants quickly growing in popularity for their excellent results and safety profile. At RealSelf, 97 percent of patients say breast augmentation is "worth it."
You may be one step closer to having the procedure done yourself, but are held back by one of these misconceptions. Plastic Surgeon Dr. David Halpern exposes common myths and illuminates the truth about breast augmentation surgery.
Breast Augmentation Facts & Myths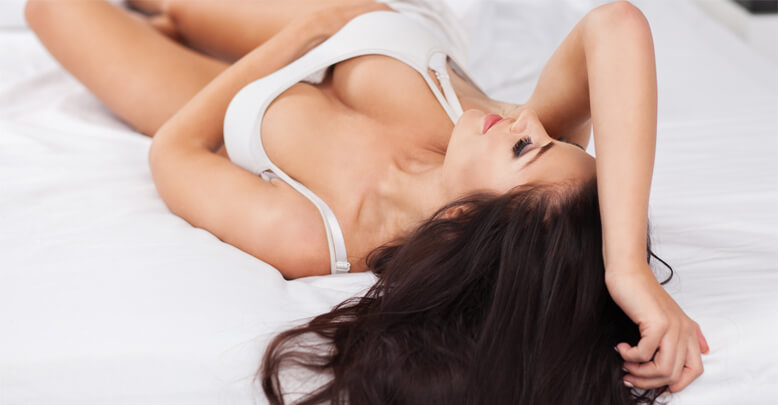 Most women get breast implants to have big racks and attract mates.
Some women worry about what others will think of them if they get implants. Images of Pamela Anderson and Heidi Montag may immediately come to mind when you think of breast augmentation, but these busty, high profile women are in the minority.
The biggest demographic for breast augmentation procedures are women who are married with two kids and an average age of 34. Breasts are comprised of fat and connective tissues, so the most popular way to replace lost volume related to childbearing is to get implants. Women do not always opt for bigger breasts. Many are just replacing the volume that has been lost and get the added benefit of a lift with them.
In Florida, women do tend to go more toward C or D cups, but Dr. David Halpern works with each individual patient to determine which size and shape will best complement the woman's physique.   We use pictures that the patient brings in to assist with meeting their personal goals and to ensure good communication between Dr. Halpern and the patient.
A "C" cup is the ideal standard for breast implants.
Women come in all shapes and sizes – from AAA to KK and beyond. Women's breasts are getting bigger over time. Within the last five years, the average bra size has gone from 36C to 36DD. Many women come in asking for a specific cup size, but that measure can be misleading because different lingerie manufacturers have slightly different size standards. It's also difficult to predict the precise cup size following a reduction or augmentation due to the shape of the breast.
Breast implants are measured by cubic centimeter and are selected based on patient height, width and proportions. Some doctors use  imaging to give patients a better idea of what the enhanced size may look like on the body. Dr. David Halpern will work with you to find the right proportions.
The best time to get a breast augmentation is after the breasts are done growing in my teens.
There is no standard age for having breast augmentation surgery. The perfect time can range from 18 to 50, depending on how you feel about your figure. Development has little to do with the equation.
While a woman's skeletal system may finish growing sometime in her teenage years, a woman's breasts continue to develop through her mid-twenties and continue to change all the way through menopause! Some women develop their breasts as early as 8-12 years of age, while others may be late bloomers. Sometimes the breasts appear pointy before they fill out or one breast seems to develop faster than the other – and all that is perfectly normal.
In 2013, more than 8,234 saline breast augmentations were performed on 18-to-19-year-olds. To receive silicone implants, the FDA requires women to be at least 22 years of age, since this newer type of implant has not been clinically tested or cleared for routine use  in younger women.
Related: 10 Reasons To Get Breast Implants After 50
Breast augmentation will make my breasts perkier and younger looking.
Breast augmentation can:
Enhance the contour of a small breast
Restore lost volume related to weight loss or pregnancy
Achieve better symmetry for disproportionate sizes and shapes
Improve the feel of breasts that have lost firmness over time
Provide the foundation of breast contour following cancer removal
Correct congenitally disfigured, asymmetric or injured breasts
I won't be able to breastfeed my baby if I get breast implants.
If you plan to have a baby within the next year or so, it would be wise to postpone implant surgery. However, if you want to get implants now and decide to have children down the road, there will be no consequence as far as breastfeeding is concerned. (You may just need an additional lift later on if the breast tissue stretches or shrinks considerably during and after your pregnancy!)
There are many ways to approach breast augmentation. Any "horror stories" you may hear are likely related to subglandular procedures where the nerves or glands were somehow damaged. By contrast, Dr. David Halpern uses a different technique that places implants under the breast crease or near the armpit and thus avoiding nipple incisions.
As the International Breastfeeding Centre of Canada states: "There is no evidence that breastfeeding with silicone implants is harmful to the baby." As long as the operation is not done through the areola, there will be no problems with milk supply or letdown.
Related: Mommy Makeover: What You Need To Know
Breast implants need to be replaced every 10 years.
Nearly every patient has heard this rumor. However, there are many women who have had implants placed 30 years ago who are still just as happy with their results. The shelf life of breast implants is typically 10 to 15 years, but that is by no means an "expiration date." There is no need for "maintenance" if you are still pleased with your implants after that time.
About 20-40 percent of women will opt for an additional procedure years down the road to adjust the size or get a lift. After all, breast augmentation cannot compensate for genetics, environmental factors like sun exposure, or the natural effects of aging. Dr. David Halpern asks that all patients come back in for a checkup at regular intervals to ensure their continued satisfaction.
Silicone breast implants often rupture and may cause cancer.
There have been a select number of sensationally reported implant rupture cases, but they are the exception rather than the rule. FDA studies concluded that the rate of rupture was 10.1% for Allergan implants after 10 years and 13.6% for Mentor implants after 8 years. Three-quarters of these cases were symptomatic and addressed before an actual rupture occurred.
Today's implants are tested to withstand 25 times the force of a standard mammogram without failure, so you will still be able to have regular screenings without worry. As Skin Mag Online reports, "Silicone gel implants are among the most studied medical devices with well-proven safety records. Numerous studies have shown that there's no evidence linking medical silicone to cancer, neurological disease or connective tissue disorders."
Breast augmentation surgery is very painful and I'll need a lot of time off work.
The surgery itself is done in 1-2 hours, as an outpatient procedure, under general anesthesia, so you'll need someone to drive you home afterward but you won't feel a thing.
While individual pain tolerance levels vary, when done correctly, breast augmentation procedure recovery causes only mild discomfort for a day or two. Dr. David Halpern occasionally uses Exparel — a breakthrough, non-narcotic local anesthetic that provides 48 hours of pain relief – as well as gentle, minimally traumatic surgical techniques to get you back to a normal, non-strenuous routine within a day, without the need for pain medications like Vicodin or Percocet.
Patients are generally back to work in 4-7 days. Three weeks after surgery, you'll be able to do lower body exercises, walk and ride a stationary bike. By six weeks, most women are comfortable enough to resume arm and chest exercises as well as running (usually unrestricted at that time).
Breast augmentation results are visible immediately.
During breast augmentation surgery, the muscles react by tightening, which causes the resting position to be a little higher than normal. The chest tissue will look a little swollen. Depending on the patient, true results are visible approximately 8-12 weeks after surgery when swelling completely subsides and the breasts settle into a more natural position. For this reason, Dr. David Halpern recommends that patients plan their breast augmentation procedure well in advance of a major event like a wedding, pageant, milestone reunion or other special occasion.
Breast implants are obviously fake and everyone will be able to tell.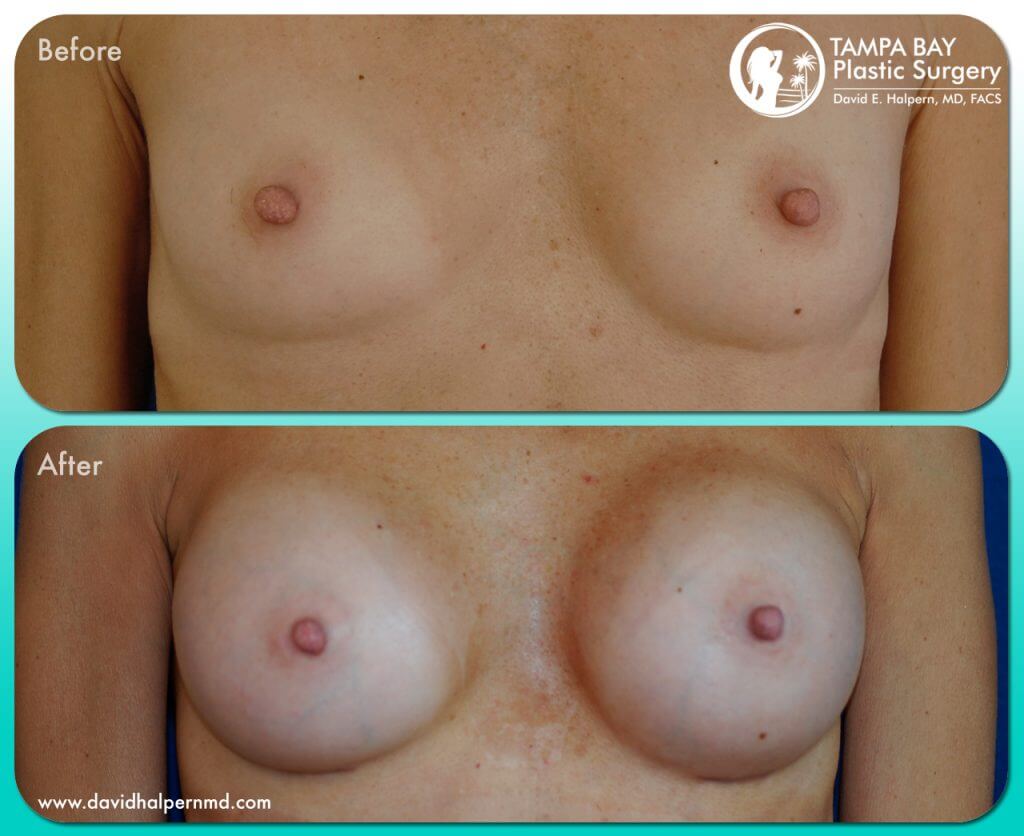 Obviously, hundreds of thousands of women would not be electing to have this surgery done if the implants did not look and feel real. Modern implants have come a long way in shape and texture. Choosing a board-certified plastic surgeon like Dr. David Halpern will help you get the natural look that best fits your body type.
The final result of breast implants depends upon:
The initial shape, size, volume and symmetry of the patient's natural breasts.
The experience, skill level and certifications of the surgeon attending to you.
The type of implant specially selected for shape, size and texture.
The way and level the implants are filled or positioned.
Bigger breasts will give me the perfect body.
Having realistic expectations prior to breast augmentation surgery is just as important as the decision to have the procedure done at all. Unless you're having corrective work done or a lift, breast augmentation will merely accentuate and enhance what you already have. A larger bust can make your waist appear smaller and your hips look more shapely, but it will not get rid of cellulite or give you a Victoria's Secret model body. Dr. David Halpern is happy to discuss any additional procedures to help you reach your ideal standards of beauty, but keep in mind that happiness ultimately comes from within.
Contact Dr. David Halpern's practice, Tampa Bay Plastic Surgery, to schedule a breast augmentation consultation or call us at (813) 871-5000.